OUR MISSION
To preserve, enjoy and share with the public the memory, history and experience of railroading, particularly Texas railroading, as it has been and as it is now.
Our current projects include development of the Texas Railroading Heritage Museum at Tomball (in cooperation with the City of Tomball and Harris County) and restoration of former Kansas City Southern Lines
Southern Belle
Tavern-Lounge-Observation
Good Cheer.
Click here for information about our latest acquisition, Southern Pacific

Sunset Limited

dining car No. 10212 (aka Amtrak 8527).

New members are welcome! Click here to download a membership application.
MORE INFORMATION
EQUIPMENT ROSTER





Locomotives:


HB&T 14 Alco S-2 switcher, 1945
Texas Mexican 510 Baldwin DS44-750 switcher, 1949



Passenger, Railway Mail and Express Cars:


AMTRAK 3395 lounge car (ex-ATSF), 1950
ATSF 1890 end-door express car, 1928
ATSF 3401 baggage-Railway Post Office car, 1938
GM&O Alton parlor car, 1947
KCS Good Cheer tavern lounge observation car, 1940
MKT New Braunfels chair car, 1955
MP Eagle Chasm sleeping car, 1949
SP&S 50 mail storage car (originally baggage-RPO), 1915
T&P 1114 baggage car, 1920



Freight cars:


CSOX 2198 tank car, 1927
MHAX 1237 helium car, 1955
MKT 6 cupola caboose, 1949
SP 4696 bay window caboose, 1979
TrailerTrain Co. 92309 intermodal flat car, 1967



Miscellaneous Equipment:


Fairmont Track Speeder
Velocipede
CONTACT US
Gulf Coast Chapter - NRHS
PO Box 457
Houston TX 77036

info@gulfcoastnrhs.org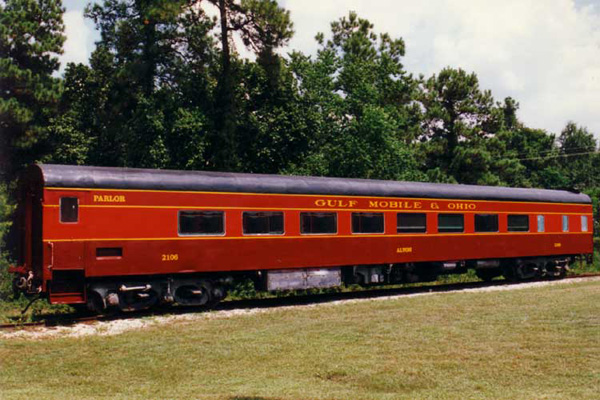 Gulf Coast Chapter - National Railway Historical Society, Inc. is a 501(c)(3) nonprofit educational organization incorporated under the laws of the State of Texas.



All content copyright © 2019 Gulf Coast Chapter - National Railway Historical Society, Inc.

unless otherwise noted.