Houston-based Gulf Coast Chapter - National Railway Historical Society, Inc. (Gulf Coast NRHS) is acquiring a historic railroad dining car with Houston connections.

The dining car, now known as Amtrak No. 8527, was built in 1950 by the Budd Co. of Philadelphia for operation on the

Sunset Limited

, the premier streamlined train operated by the Southern Pacific Railroad between New Orleans, Houston, San Antonio and other points to Los Angeles. The car passed through Houston and other Texas cities on a regular basis from 1950 until Amtrak took over national passenger service in 1971. While in service on Amtrak the car operated on various routes primarily in the eastern half of the United States, running in excess of 6.9 million miles, according to Amtrak records.

The car was numbered 10212 when in operation on the Southern Pacific, becoming No. 8527 in Amtrak service. No. 8527 was among the last of the so-called "Heritage Fleet" cars that Amtrak acquired from various railroads when the company took over most of the nation's non-commuter passenger trains in 1971. Amtrak has recently taken delivery of new dining cars, rendering the remaining "Heritage Fleet" cars surplus and Amtrak offered No. 8527 for sale at auction in November 2018. Amtrak notified Gulf Coast NRHS of its successful bid on April 28, 2019. The sale is expected to be finalized in May.



The 69-year-old dining car was one of six identical cars built for service on the

Sunset Limited

, which Southern Pacific touted as "The Streamlined Train with the Southern Accent". The dining cars were decorated in celebration of the works of Louisiana artist/naturalist John James Audubon. The "Audubon Dining Room", as the railroad referred to it, was decorated with hand-painted reproductions of many of the naturalist's famous bird paintings. Other touches included drapes with a bird-of-paradise motif and fern pattern carpet.

Amtrak replaced the interior fittings and decorations with more utilitarian appointments during No. 8527's many years of service with the national carrier.

The car will retain its Amtrak interior when it eventually goes on display at the proposed Texas Railroading Heritage Museum at Tomball, although Amtrak exterior branding will be replaced with striping and lettering evoking the car's Southern Pacific heritage. Gulf Coast NRHS is working with the City of Tomball and Harris County to develop the new railroad museum.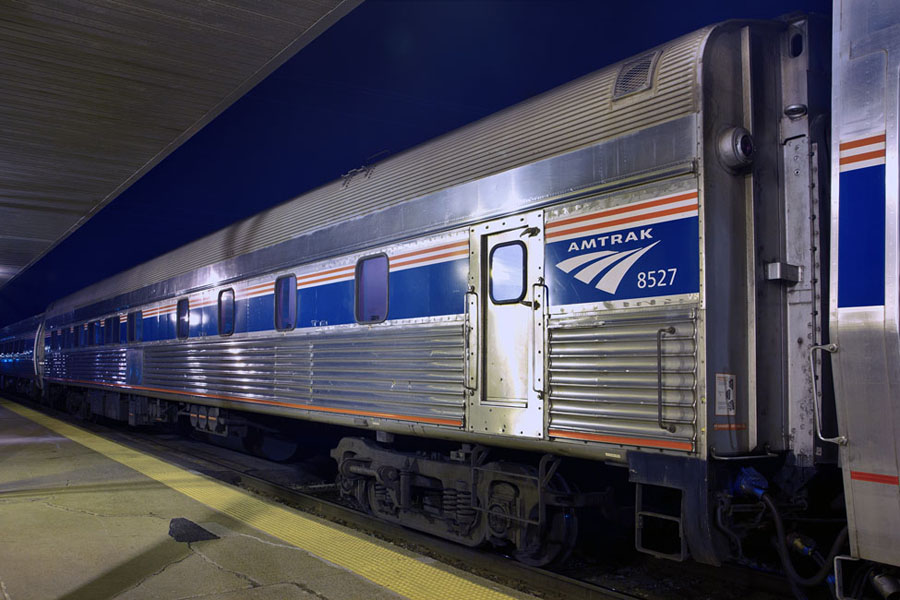 Amtrak No. 8527, a "Heritage Fleet" dining car originally built in 1950 for service on Southern Pacific's famous

Sunset Limited

streamliner, has been acquired by Houston-based Gulf Coast Chapter National Railway Historical Society, Inc. Photo by Geno Dailey.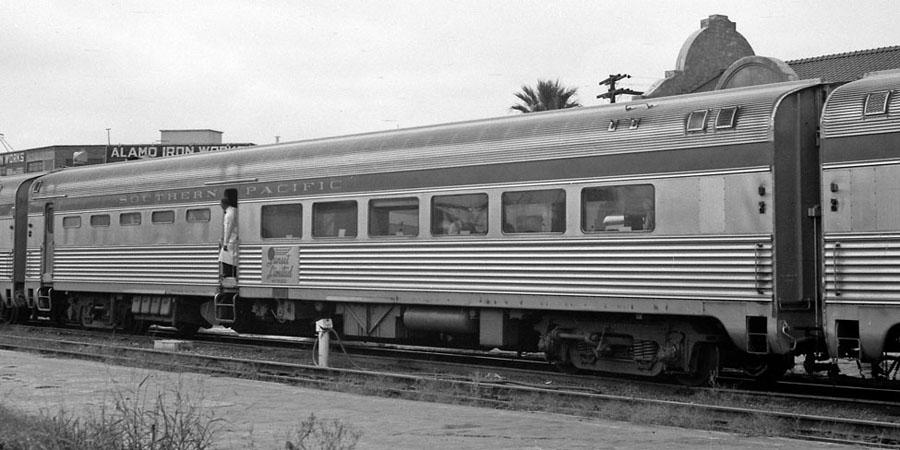 No. 8527 was built in 1950 for service on Southern Pacific Railroad's streamlined

Sunset Limited

. Carrying SP number 10212, the car is seen here on the

Sunset Limited

at San Antonio on Nov. 25, 1962. Photo by Don Munger, courtesy Southern Pacific Historical & Technical Society.